Ever since we moved into our flat a full five years ago, the corridor has been a sad and empty place. We painted it white which was a definite improvement on the lemon and jade walls/metallic silver woodwork combo that was there before but having done that we left it. Each time I walked down it I made a mental note to find some lovely colourful finery to adorn the blank walls and then other rooms stepped in, shouted louder and assumed priority.
But it was such a perfect blank canvas eventually I just couldn't ignore it and decided it was time to dress it up.
By happy accident I had over time acquired a few prints and pictures with a red theme running through them and they have formed a cheerful little collection on one of the walls:
My mother bought me the Ballet Russes poster at the V&A exhibition of the same name. The Leyland Buses postcard (in the smallest frame) was sent to me from the North by my lovely friend Helen - Leyland is her home town. The bigger London bus screen print is actually the poster for a Flight of the Conchords gig we went to - it is very rare that I buy show merchandise but this one appealed to me and reminds me of a night involving much, much laughter. The Rob Ryan limited edition laser cut for the V&A was a Christmas present from my parents. The gorgeous fox painting is from
Mir Dinara
on Etsy, found via
The Seventy Tree
and was the final piece of the puzzle. I thought this area was finished but then spotted the gorgeous
Papermash
banners on
Tea For Joy
and the Joie De Vivre one is now winging its way to me to act as the crowning glory.
I had also wanted to do something with the wall space above our bedroom door. Books are everywhere in our flat - Mr Crafty devours them and usually has about three on the go and both of us feel strongly about buying solid paper books and holding onto them. Our dream house of the future has a library but we have no such luxury in our two bedroom flat. As the two bookcases in our sitting room were bursting at their metaphorical seams we decided to use the space for a bookcase to hold Mr Crafty's collection of classics:
He loves the display of reading matter, I love the fact they make a rainbow!
I have a funny relationship with books in that I love reading, almost more than anything, but if my head is very full of day to day stuff I sometimes find it hard to pick up a book. It's as if I forget how much I enjoy it. When I do make a start on a good book then it is all that I think about but I can go for months without reading anything. So I made this banner from scraps of Liberty fabrics to remind me to pick up a book! I adapted the design from the
Nice
banner in
Applique Your Way
by Kayte Terry.
Finally, back in 2009 we bought a
pine dresser
from EBay. It looked like this when we bought it:
Since then it has been standing in the corridor looking very out of place but providing useful storage for all my cake making equipment. It was always my intention to paint it and I finally got round to it. It now looks like this: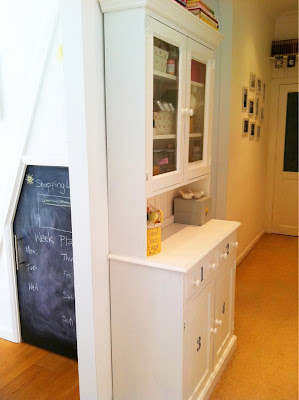 I added the slate grey painted numbers on the drawers and doors which I hope you can just about see in the picture for a bit of interest. It blends in a lot better now although it is going to need retouching soon as it has become one of Milly and Jeff's favourite scratching posts.
I now sometimes find myself pausing in the corridor. It has it's own cheery identity instead of being a blank space to simply pass through. We haven't done a huge amount but what we have done makes me smile. Hope it makes you smile too.